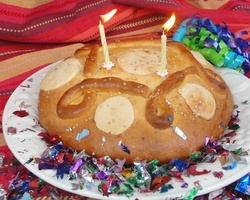 We would like to thank all of our loyal customers for their support over the past 2 years in helping AntiguaFC.com grow at a steady pace.
Our store is one of a kind. We have ventured to offer products that can not be found on any other Website. We strive to provide our customers products of high quality.
The presentation of our products is also something that we attach great importance and time to. We want our customers  to open their packages and immediately feel transported to Guatemala.
We are proud to know that our products have helped many parents make their children aware of their roots and rich culture.
Through our products and services our customers have received a little piece of Guatemala at home.
Above all, our store, with the help of our customers, has indirectly helped many Guatemalan families in  providing them with certain resources to lead a decent life.
Our goal is to continue the good work keeping in mind that our customers come first.
All our breads are homemade. The difference between our bread and the bread you find at  supermarkets or bakeries is enormous.  The bread you buy at supermarkets or  bakeries has the texture and substance that can be made on an industrial scale and not grow "old" on the shelf at the store. The industrial scale process is designed to maximize profit while still producing an edible product. This is done by using an excessive amount of yeast in order to create lots of air bubbles in the bread, hence the "light texture of store purchased bread. It also allows for the use of lower-quality grains because of this yeast abundance. Therefore, the bread is far from nutrient-rich.  Our bread on the other hand is made to order, using no preservatives, and containing fresh and high quality ingredients. In addition, some of the ingredients that we use are imported directly from Guatemala. When you buy our bread you will notice the difference in flavor, color, and texture immediately.
RDalton Filadelfia Estate Coffee from Antigua Guatemala
Antigua Guatemala has long been recognized for growing the highest quality coffees in the world. It's climate, high altitude, fertile volcanic soils and traditional farming practices contribute to the making of the world's finest coffee.
AntiguaFC.com is proud to offer a coffee that is  100%  from Guatemala and the best from Antigua Guatemala. The "Genuine Antigua" coffee, from RDalton, Filadelfia Estate,  has obtained  The International Cup of Excellence award for 3 years. Also, in 2009  it obtained  the APCA award (Antigua Coffee Producers Association). RDalton, Filadelfia Estate has a selection of the best Guatemalan coffee grown in the fertile soils of the Highlands. Cropped by skillful Maya people, blended and roasted to maximize its complex flavors and incomparable aroma that will fulfill all your senses.
In 3 different Flavors:
Genuine Antigua (Award winner)
Gourmet Blend
Gourmet House Blend, regular and decaffeinated.
All the coffee is fresh-roasted and seal-packed on the coffee plantation and stored in a climate-controlled warehouse. The green coffee is stored in cool high-altitude warehouses in Antigua Guatemala. This preserves the quality for a long time.